Rosalia's Bittersweet Pastry Shop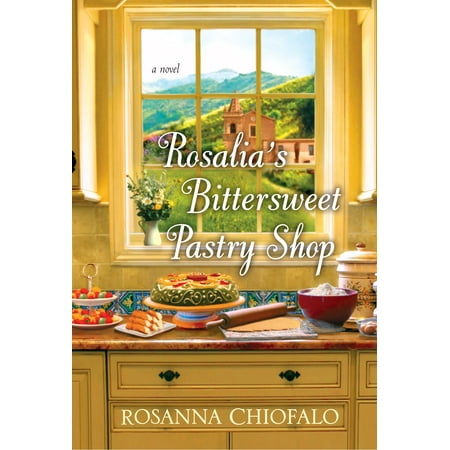 In Rosanna Chiofalo's touching novel, a unique pastry shop features mouthwatering creations that have the power to change one woman's life…


Food writer Claudia Lombardo has sampled exquisite dishes by the world's greatest chefs. But when she hears about the remarkable desserts that are created in a pastry shop operated out of a convent in the sleepy Italian hillside town of Santa Lucia del Mela, she wants to write a book featuring the sweets and the story behind their creator—Sorella Agata. But the convent's most famous dessert—a cassata cake—is what really intrigues Claudia.
Everyone who samples the cake agrees it is like none other they've tasted. Yet no one can figure out what makes the cassata so incredibly delicious. Though Sorella Agata insists there is no secret ingredient, Claudia is determined to learn the truth behind the mysterious cake. As she samples each delectable treat—marzipan fruit, rich cream puffs, and decadent cakes—Sorella Agata relates the pastry shop's history and tells of the young woman, Rosalia, who inspired her.
Kidnapped and separated from her family, Rosalia is subjected to a terrible ordeal—until the nuns find her. As she heals, she learns the art of pastry making, and soon she even finds love with Antonio—an apprentice in the pastry shop. But her heart still aches for the family she lost. And Rosalia knows she will not be whole again until she is reunited with them.
As Claudia unravels the secret of the cassata cake, she discovers a deeper, fascinating story—one that affirms food can do more than nourish the body…it can stir memories, heal the deepest heartaches, and even act as a bridge to those we love, no matter how far apart.
Praise For The Novels Of Rosanna ChiofaloStella Mia
"The mountains and islands of Sicily, the fabulous clothes of the late sixties, and the emotional power Sarina feels when singing stand out." --
Booklist
Carissima
"What a glorious novel this is. It's a celebration of life, love and unlikely friendship through the eyes of two very different women. Yet their similarities bind them together and will endear them to readers long after the last page is turned. Bravissima for
Carissima
!" --Susan Wiggs, # 1
New York Times
bestselling author
"
Fantastico!
I couldn't put it down!" --Lisa Jackson, # 1
New York Times
bestselling author
Bella Fortuna
"Chiofalo brings the Italian immigrant community and neighborhoods richly to life." --
Publishers Weekly
"Well-drawn characters…A charmer." --
BookPage
"Sometimes tough, sometimes tender, always heartfelt and honest,
Bella Fortuna
is a lively, finely-stitched tale of life and love, family and friendship, and a zest for
cose Italiane
!" --Peter Pezzelli, author of
Home to Italy