Civil War Map Print - Charleston Harbor SC Rebel Defences & Obstructions 1865 - 23x25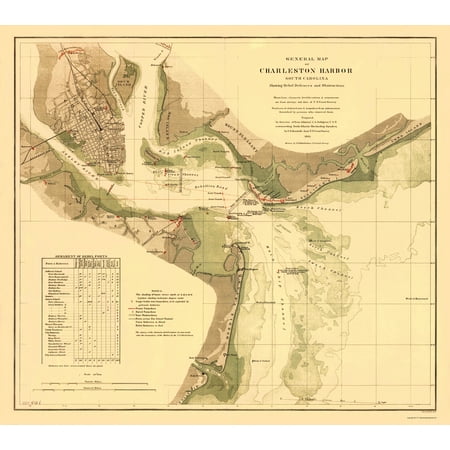 Civil War Map - Charleston Harbor SC Rebel Defences & Obstructions 1865 - This is an exquisite full-color Reproduction printed on Glossy Satin Paper.
Print Size:
23.00 x 25.87 inches
Sites and Townships Specific To This Map Are: Mount Pleasant and Charleston.
The following towns are featured: Magnolia Cemetery, Chishohn's Mills, South Carolina RR, Savannah RR, King Street Road, Calhoun Street, Laurens Street, Ashley River, Legareville Road, Wappoo Creek, Town Creek, James River, Drum Island, Wando River, Hobcaw Point, Hog Island, Shute's Folly Island, Morris Island, Light House Inlet, Frame Torpedoes, Barrel Torpedoes, City Intrenchments, Batteries (ex. Half Moon Battery, Battery Glover, King St. Battery, White Pt. Battery, Fraziers Wharf Battery), Rifle Pits, Castle Pinckney, Fort Johnson, Fort Putnam, Fort Wagner, Fort Shaw, Fort Sumter, Wreck of Potapsco, Wreck of Str. Etiwan, Wreck of Weehawken, Wreck of Keokuk, Rope Obstructions and the Ship Channel.
This Map is Situated in: Berkeley County, South Carolina (SC).
SKU: CWCH0008-2
Original Maps are often difficult to find and usually have fold lines, identifying stamps or markings, tears, ragged edges, and assorted other natural signs of age that detract from their beauty. All of our maps have been professionally restored to depict their original beauty, while keeping all historical data intact.
These maps are fabulous pieces of history full of information useful to Historians, Genealogists, Cartographers, Relic Hunters, & Others. They make fascinating conversation pieces and splendid works of art for the home or office.